Linked together, our proprietary sensors form a city-wide central nervous system. Their wireless-augmented powerline infrastructure paves the way for instant analytics of weather, pollution, parking and traffic data through environmental sensors and third-party technologies that can help cities to become significantly more cost and resource efficient.
Inefficiencies arise when systems are not inter-connected. Being able to monitor a city's pulse with real-time data means that hardware failures and faults can be immediately detected and even anticipated in advance. Removing the need for human engineers to perform scheduled physical checks on-site can also greatly reduce a city's repair and maintenance costs while optimising the lifespan of its hardware.
Removing the need for prohibitively expensive new infrastructure, gridComm's solution 'piggy-backs' on a city's existing powerlines. We have solved the long-standing problem of signal interference from electrical noise by adding a layer of wireless connectivity on top of 18 redundant channels. This allows us to provide the world's most reliable smart city network solution with complete technology ownership from sensors to gateway and software. The two-way communication is made possible when a sensor sends data to gridComm's back-end gateway device, which functions like a 'brain' and reliably sends back instructions to the sensor.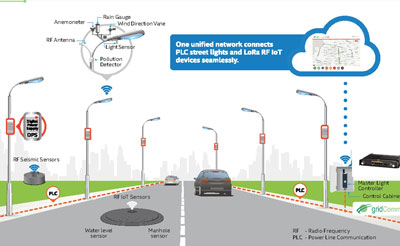 Smart Street Light System
gridComm creates a network across a city's existing powerlines and use this network to connect street lights and sensors.
In combination with gridComm's partners, we connect street light securely, and connect smart city sensors.
Street light and sensor connectivity with gridComm
Secure network gateways for cloud connectivity
Street installation partners
Analytics for ptimized diming and predictive maintenance
Sensors for smart city implementations/li>